August 2008
TURNING KICK
Introduction article to prepare for fundamental kicking continued, by Grandmaster Tony Vohra.
We will be covering turning kick in this article. Turn your body as you perform this kick and make impact with the ball of your foot - though you can also impact with the instep or shin, depending on distance. Itís important to go from sparring stance to the target as quickly as possible using a diagonal movement.
As with the techniques covered in earlier articles, I will explain: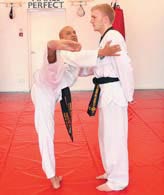 a) How the technique should be performed;
b) How to practice the technique;
c) Its application and targets;
d) An exercise routine to make your legs stronger and your technique better;
Turning kick delivered either with front or rear leg can deliver a tremendous impact when the correct body movement is used.
1) When performing turning kick, it is important to bend the knee so your foot is close to the buttocks, your knee is lifted and to the side of the shoulder.
2) The knee swings around until it points to the target and the foot goes through it. Impact is made with the ball of the foot with toes pulled back. The kicking hip rolls over the top of the other, which points backwards.
3) The kick is retracted in the same way to allow multiple kicks and also to cover you body so you are not open to counter attack.
Remember to kick from floor to target as quickly as you can. Train first with your weaker leg and work towards good balance and correct body posture. Use a chair or wall to hold the correct posture if you find it difficult to balance. Practise kicking in front of a mirror and look at how you shape up. Hold the kick at full extension before pulling it back.
Work to develop power, beginning from your preferred sparring stance and guard. Aim to kick through the targetís centre line.
Once the basic movement is mastered, it is simply a question of practice makes perfect.
Practising with a partner helps develop your technique and practise turning kick from both static and moving modes. Aim the kick at focus mitts, floppy pads, punch bags, wall targets and even your partner to develop accuracy. Remember: you can kick with the ball of foot, instep or shin depending on how far away your target is.
Hereís another routine to develop and strengthen your body for turning kick.
Begin in sparring stance.
1) Stand half facing/half alongside a wall. Rest the hand closest against it for balance.
2) Use your weaker leg first. Thatís the one furthest from the wall. Itís your rear leg and you bring it up to the buttocks before extending it into a turning kick and rotating your kicking hip over the top. Turn your body to the side and pay particular attention to foot positions. Your body should be as high as possible. Use both arms for support, with the kicking leg straight, toes turned down and heel up. Hold this position for 10 seconds before bringing the leg back in the same manner it was extended - slowly and with correct form. Once you have completed the kick, repeat it on the other leg. Do 3 reps on both legs.
3) Next, stand as before, bringing your rear leg to the buttock. Quickly extend your leg while breathing out. Return it to the original position while breathing in.
Repeat this 10 times in quick succession and without dropping your knee or lowering your kicking foot to the ground. Then fully retrieve the leg and return to fighting stance. Work both legs three times. When holding position for 10 seconds and performing 10 turning kicks becomes too easy, then gradually increase reps to 15 and then 20.
These exercises strengthen and lengthen all the muscles used in turning kick. Remember to keep your body as high as possible so as to develop better balance. You can take your hands off the wall and make a proper guard once your balance improves. Perform these exercises in front of a mirror when you are more confident.
Practise turning movements of the hips and body in rapid succession so you can develop the maximum of movement and rotation.
Skipping and stance-changing are excellent drills for helping you develop the correct body movement. Practise on your toes and move from sparring stance into turning kick so the hip rolls over. Your muscles will become stronger and looser if you alternate your stances. and this will improve your overall suppleness and your technique.
Master Tony Vohra is always pleased to advise individual students, clubs and instructors and he will arrange courses & seminars to suit at home and abroad.