An interview with...
Barbara Marion
Barbara Ruth Marian entered the world of martial arts after taking her five year old son to join a local Taekwondo class. Now, her whole family is involved and she teaches herself, to a whole new army of young Canadian taekwondo followers. Her story is one of finding something that you are good at or enjoy and excelling at it, read on . . .
Why did you take up martial art as opposed to other activities in your country?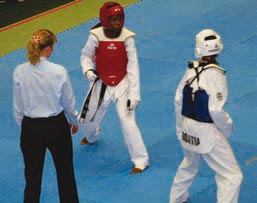 BARBARA MARION: I have always been very athletic and active. I have played volleyball and baseball in the past. I still continue to enjoy running today. When my first son was 5 years old, he was very meek and needed some self confidence, so we enrolled him in a local Taekwondo school. My husband and I were so taken by it, that he joined days later, I joined a couple of months later, and our youngest son joined as soon as he turned 4 years old. My sons asked my husband and I several times to try hockey. My husband and I always said, "No". As Canadians, hockey is a big part of the sport of most every family. We were afraid that our boys would go into the corner of the ice, or get into a scrap, and use their feet our of force of habit. That would not be good, considering they would be wearing skates. Not only that, many of my students play hockey along with doing taekwondo. Its seems that they suffer more injuries playing hockey and they were coming to class injured. And, I don't play hockey or know how to skate, so I wouldn't be able to spend that time with my family. It is just so important for me to spend time with my family. Taekwondo has satisfied that need.
What or who is the first inspiration that got you motivated?
BARBARA MARION: My family are my inspiration. Training together, spending time together in the Dojang over the years while my sons were growing up has been the most inspirational motivation I can think of. What better way is there to enjoy the company of my family, than training together everyday in the Dojang? I certainly cannot think of a better way to spend my leisure time.
Which aspects of martial art practice do you most enjoy?
BARBARA MARION: When I am practicing for myself, I enjoy sparring and kicking. However, I find that the majority of the time, I am instructing. When I am instructing, I most enjoy teaching fundamentals to beginners. (Being able to teach a 5 or 6 year old to figure out how to kick a focus pad by turning the hip over and using the top of the foot, particularly if they can accomplish this on the first night, gives me the biggest thrill. I find that I am more often electrified at the end of the class than the kids are.) Like most people, I have a stressful job. Often I will leave the office with stress and muscle tension. I will begin teaching class with the usual warm up. Then I work with the little ones, and all that tension seems to drain away.
What does it take to make a success of martial art practice?
BARBARA MARION: If I were going to answer this question in one word, I would say, "sweat". But for those of us who practice TKD, we know there are many elements to succeeding at practicing any martial art. In my opinion, hard work and heart are more important that talent. We should always focus on the basics, and be sure that the students have the willingness to prac-tice them over and over and over again. Stick-to-it-iveness, ability to keep going, keep trying the technique no matter how much difficulty the student is having with it, will make practicing martial arts successful.
What are the main physical requirements for success in your art (flexibility, power etc)?
BARBARA MARION: Good cardiovascular strength is the most important physical requirement. Although power, flexibility, strength, agility, balance are important, the ability to be able to spar for 6 minutes and perhaps 7 matches in a day requires incredible stamina, which comes from the heart.
How do you measure effectiveness in martial arts practice?
Through winning competitions? Through gaining grades?
Through working the door?
BARBARA MARION: Winning competitions is good, but the medal around the neck is just "bells and whistles". The growth of the student during the competition is more important. Improvement in the student's grades at school are great and a reasonable measure of success. But when all is said and done, my goal is to provide the path to excellence. That is my club's motto. When I talk to the students about the practice of taekwondo, I explain that it is all for only one purpose: "To be a good person."
How can you improve or develop your techniques further?
BARBARA MARION: The answer to that question is very simple, but not so easy to put into play, what with a family, a job, a home, teaching my students and travelling to referee. Practice, practice, practice. It is very difficult for me to find the time to practice for myself.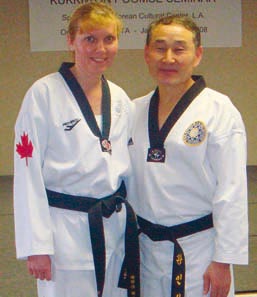 What are thoughts on the new emphasis of practicing martial arts?
BARBARA MARION: Practicing of traditional martial arts is for everyone. But earning the responsibility of the black belt is not for everyone. The responsibility of a black belt is huge. Sometimes we overlook what it really takes to be a black belt. We must ensure that we instill in our students that once they earn that black belt, they are a weapon, and must behave accordingly. They must not only remember, but live by the tenants that we all espouse to: courtesy, integrity, self control, perseverance, indomitable spirit; plus two more to live by: loyalty and honour.
On the other hand practicing the sport of a martial art is geared more for the youth. The inclusion of the sport of taekwondo in the Olympic Games has precipitated its greater popularity in terms of number of parishioners world wide. Now, this is not to say that all ages cannot practice taekwondo as a sport. This is not the case at all. I consider myself, even at my age, more of a sport taekwondoist. But I don't fool myself. To play the game effectively, youth is a prime advantage. Consequently, the focus of the practice is far different. Speed, power, flexibility, agility, stamina, tactical game management and many more, are the subject of a sport taekwondoists practice.
Do you believe that patterns are the heart of TKD?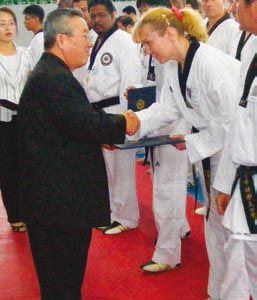 BARBARA MARION: I think that patterns are an important part of TKD, but not the heart of TKD. I believe that modern TKD has developed into two streams: martial art and sport. Patterns have a value in the sport stream, but are far more important to the martial art stream. Are patterns the heart of TKD as a martial art? I don't think so. There is so much to practice within the martial art. Fundamental skills such as stances, blocking, striking, balance, flexibility, and more complex skills of self defense, mediation, breaking, kicking, demonstration techniques, inner spirit, and confidence skills, and the list goes on and on. It can be said that patterns utilize and exhibit many of these skills, but in my humble opinion, patterns are not the heart of TKD.
Biodata in Taekwondo/Martial Arts achievements and accolades?
BARBARA MARION: Since I began taekwondo relatively late in life, I was too smart to spar with the provincial and national athletes (I like my nose where it is), I have sparred at the local level only. I had lots of success over the years, and still compete locally from time to time. However, it made sense for me to become a referee, so I started my career in 1998. I was fortunate to have moved through the ranks very quickly and became an International Referee in 2002. As luck would have it, I was selected for the World Championships in 2003 in Germany. More luck was on my side that week, when I refereed the male flyweight final. Not only that, it was on my birthday. That evening, I was carried around the restaurant on the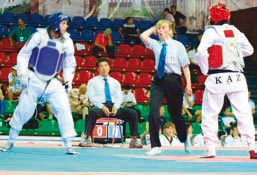 shoulders of the IR's from South America and Mexico and had Happy Birthday sung to me in seven different languages. What an amazing day! Since then, I have refereed at over 35 international events in 21 countries, so far, and hopefully many more to follow. I have also been fortunate to have been selected to referee at the 2004 Asian Olympic Qualification tournament in Bangkok, Thailand; 2006 Pan American Taekwondo Union (PATU) Championships in Buenos Aires, Argentina where I received a Best Referee award; 2007 PATU Junior Championships in Daytona, USA, 2008 World Junior Championships in Izmir, Turkey; 2008 World Military Championships in Seoul, Korea; 2009 World Para Taekwondo and World Cup Team Championships in Baku, Azerbaijan where I received a Best Referee award.
I recently attended the 16th Foreign Instructor's Course at the Kukkiwon. I have visited the Kukkiwon a couple of times in the past, but this was the first time that I have trained there. I just admit that it was almost a religious experience, walking onto the Kukkiwon floor and seeing the Canadian flag among a few National flags suspended from the ceiling, wearing my dobuk and anticipating be taught by some of the most well known and accomplished Taekwondoists in the world. After years of studying martial arts at home, training at the Kukkiwon as an entirely new experience. When the course was completed, I was honored to have received a commendation from the Kukkiwon. Fifteen years ago, I would never have thought that I would be seeing the world, learning so much about this great martial art sport, learning about other cultures and people's, and making lifelong friends around the world.
Having refereed so much, you must have seen some very exciting matches. Tell us about some interesting referee moments.
BARBARA MARION: Well, the fly weight final in the 2003 World Championship was very exciting. That particular match as been declared by the Mookas (Taekwon.net) website as being number 5 of the Top 5 Taekwondo Matches of all time. I have been accused of having taken a bribe, and I have had my life threatened by a coach, who later apologized when I saw him 5 months later. On the flipside, I've also been told by many coaches that I know and catch all the tricks and won't let anyone away with them. I don't about "knowing all the tricks", but I will always do my best to ensure that the rules are followed.
What do you think about the use of Electronic Body Protector (EBP) and Video Replay (VR)?
BARBARA MARION: I have both refereed and worn two different brands of EBP, so far. Neither technology is perfect yet, but personally, I really like the use of the EBP. Its use is revolutionizing the game, both the way the athletes are playing and the way the game is officiated. I have used video replay at one event, the World Cup. I must admit that before the game, I was apprehensive about its use. But I was pleasantly surprised. It does take some getting accustomed to, but really only a bit of additional time is required for a game. Both the EBP and VR are technologically advancing the way referees officiate the sport of taekwondo. Personally, I like the fact that we are using both of them.
What personal ambitions do you have?
BARBARA MARION: My personal goals are simple. I want to continue to be able to spiritually and physically practice taekwondo for as long as I'm on the planet. I want to continue to learn about the art and the sport by seeking knowledge whenever and wherever I can. Of course finances and available time will be the dictating factor. I have twice been selected to go through the Olympic Referee selection process, both times I have been unsuccessful. As with most every other IR in the world (Isuspect), I would like to referee at the Olympic Games.
Fact Box
a) What's your favourite colour? Blue
b) What's your favourite food? Yogurt
c) What's your favourite film? Dances with Wolves
d) What's your favourite music? Pop
e) What are you currently reading? Nothing at the moment, but just finished "Pillars of the Earth" by Ken Follett
f) What's your favourite technique? Spin hook kick
g) What's your favourite pattern? Sipjin