Side Kick
We will cover side kick in this article. Side kick is delivered while the body is side-facing. Impact is made with the heel to the middle of the foot. When practising this kick from sparring stance, the movement follows a straight line from the floor and into the target.
When working on side kick, I will show:
a) How the technique should be performed.
b) How to practise the technique.
c) Its applications and targets.
d) An exercise routine to make your legs stronger and improve your technique.
Side kick, when delivered from the front or rear leg, can be an excellent technique for sparring. It can penetrate a strong defence if you use the heel to side of the foot. Remember: the most direct way to a target is the quickest way!
Side Kick can be broken down into its components.
1) The kicking leg is brought up in front of the body, bent at the knee and with the heel as close to the buttock as possible. The higher you want to kick, the higher you lift your knee. The more bent the kicking leg is and the foot pointed down, the stronger your kick will be.
2) The leg is extended to the target with toes down. Contact is made with the side-edge heel to middle of foot. Extension from bent- to straight leg develops more of a straight-through penetrating force whilst making correct foot positioning more instinctive. The body turns to the side with the hip lifted to make impact.
3) The kick is retracted in the same way. You may wish to use multiple kicks and bringing your leg back to the heel-to-buttock position will make sure you donít put your foot down too close to your opponent where you could become vulnerable.
Practise with your weakest leg first and develop your technique from ground to target.
Practise the floor-to-target movement by using a support to help with correct positioning. Look at your target as your kick completes and hold your body high. It may help you balance if you stand next to a wall or chair.
Use a mirror to help you focus on your target - which can be low, middle, or high section. Aim into the centre of the target and cover your body with a forward guard as you kick. Train so you can hit at close range when your leg is not fully extended. Train also so you can hit with the leg fully extended and your body completely sideways-on.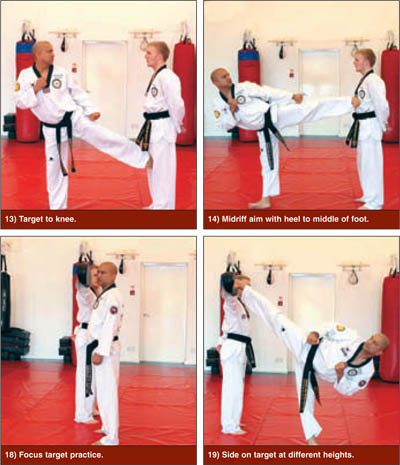 Practise with a partner once you have mastered the basic technique and be sure to use a kick/punch bag, or a focus mitt because those will help your partner to check your technique. A training partner helps you by providing a static or moving target.
Apply the technique whilst stepping forwards, backwards or sideways to reach the target. Watch your opponent all the time and think in terms of a simple, quick movement.
Try not to worry about technique when you are sparring. Instead, concentrate on getting from the floor to the target.
Here is a great routine to develop and strengthen your muscles for side kick! Begin by concentrating on leg and foot positioning.
1) Stand half-facing/half-alongside a wall. Rest the hand closest to the wall against it to aid balance. Make your posture as close to a fighting stance as possible.
2) Exercise your weakest leg first! Your weakest leg is both furthest from the wall and rear leg in your fighting stance. Slowly bring it up, foot to the buttock and then extend it into a full side kick while rotating your hips and turning your body to the side. Pay particular attention to foot position! Your leg is straight, toes are down, heel is up. Hold your body position using both arms for support. Hold the kick extended for 10 seconds. Then bring back your leg the same way you extended it - slowly, and with correct technique. Repeat the exercise on your other leg and do 3 reps on each.
3) Next, stand as before and bring back your rear leg to your buttock before quickly extending it. Breathe out with the thrusting action and breathe in as you return the foot to your buttock. Do this 10 times in quick succession without dropping your knee or dropping your kicking foot to the ground. Each time bring the kicking leg back and return to fighting stance. Do 3 reps on each leg.
These exercises strengthen and lengthen all the muscles used in side kick.
Remember to keep your body as high as possible to develop better balance. As your balance improves, you can take your hands from the wall and adopt a guard. At this stage you can practise in front of a mirror and when holding for 10 seconds on 10 side leg extensions becomes too easy, then increase those numbers to 15 and then 20.
Practise side lunges and side-stepping and/or running sideways. Side exercises both strengthen and loosen the muscles whilst improving your overall suppleness!
Master Tony Vohra is always pleased to advise individual students, clubs and instructors and he will arrange courses & seminars to suit at home and abroad. For further details, for individual stretching programmes or for access to Kukkiwon certification, contact:
President Grandmaster S. S. Vohra (8th dan),
International School of Martial Arts UK HQ, Nottingham School of Tae Kwon Do, Ilkeston Rd., Nottingham NG7 3FX, England.
Tel: 00 44 (0)115 9780439
Fax: 00 44 (0)115 9785567
Email: info@martialartsvohra.com