You're never too old
It's never too late!
I train at Strike Taekwondo, a small club in West Yorkshire. I started training 7 years ago at 33years old, not having done much in the way of exercise or sport since my school days (save a fair bit of walking). I have trained regularly 2/3 times a week and seldom having missed a class but definitely consider myself a 'recreational' martial artist.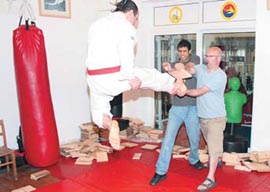 It being 3 years since my 1st Kup grading, I have spent what feels like most of that time trying to avoid the inevitable question - when are you taking your black belt? So it was with mixed emotions that I travelled with 3 of my fellow students Damien Barber, Charlotte Turner and Ben Mitchell, to Grandmaster Vohra's Academy in Nottingham on Saturday 10th May 2008, to take my 1st Dan grading. We had all attended several black belt training sessions over the previous couple of months so the journey down the M1 was becoming familiar however, today was the day! Having felt peculiarly calm that morning (I guess knowing I had prepared as best I could for the last few months), as we set out chairs for spectators in the dojang and brought in boards and bricks for breaking, my nerves started to build. By the time we had changed into doboks, warmed ourselves up and stretched, the room seemed to have become increasingly warm and I found myself regretting the cup of rather strong coffee I'd drunk on the 2 hour journey down as the increase in my tension matched that of the temperature (it was a hot day).
We began with poomsae having bowed to the flags and Grandmaster Vohra. There were 16 participants in all, 12 Taekwondo students, 3 Kung Fu students and one lad taking his 1st Dan in both arts. As my turn to perform came closer I realised that no-one appeared to have made any major errors, I prayed I wouldn't be the first, though I had practised them diligently.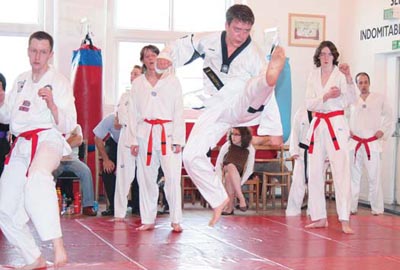 We performed all 8 Taeguek patterns (called out in random order) in pairs and all seemed well for the first 2 or 3 forms; Grandmaster Vohra would call out the name in Korean and ask one of us which number it was. Stood in joonbi (ready stance), I heard 'Taeguek Sa Jang' and launched into said pattern with complete focus and conviction. Suddenly I noticed out of the corner of my eye that my fellow club mate Damien had stuttered to a halt, don't get distracted I thought and finished my form. As we returned to ready stance I was wondering what had gone wrong for Damien as the moves he'd finished with were from the 3rd pattern not the 4th; he must have got really confused I thought! I became horribly apparent what had occurred when Grandmaster Vohra said 'Taeguek Sa Jang' next and thought 'hang on, we've just done that?' Then the realisation came crashing in, I had misheard Sam Jang (3) as Sa Jang (4) and done the wrong pattern! I was asked to perform Sam Jang as I should have done previously, and then the rest of the patterns passed without incident.
We then had a respite as we watched the Kung Fu students and the higher Dan grades perform. It was interesting to see the Shaolin Dang Lang forms - very intricate; Snake, Crane, Monkey, Tiger and Eagle.
Next up was 1 Step Sparring. I was partnered with my club mate Damien again. After a few minutes taking turns to show our techniques, I was amazed when my final takedown saw him hit the mat with far greater speed and force than I had intended. It was at this point I realised that my adrenaline was racing. The curious thing for me was that having suffered anxiety attacks for the last few years, high adrenaline normally means mental panic and confusion. I had not realised how pumped up I was because my head felt clear and focused. After some stance work in lines, kicking techniques came next; first on the spot doing repetitions of straight knee, diagonal knee, crescent kick (all variations), axe kick (all variations), front kick, back kick, turning kick, reverse turning kick, side kick and twisting kick. We then did these as jumping kicks from joonbi (feet level) and then jumping from fighting stance, switching sides each time. No rest for the wicked! Now it was the same techniques whilst stepping through and jumping down the dojang or doing 360's.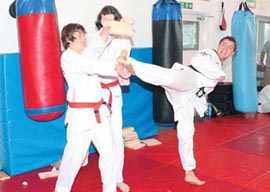 Now it was a very hot day, I'm nearly 40 years old and have suffered some health problems in recent years, not to mention paying the cost of a misspent youth (smoking etc); I did at one point feel so hot I wondered whether I might faint, I felt like the 'Ready Brek Kid' with his nuclear glow, but it's a black belt grading so you keep going and worry about that later in the ambulance! So the last part of this section - the enormous kick bags - as many front kicks as you can do without touching the ground, followed by front kick, turning kick; turning kicks left then right, side kicks; turning kick, back kick; 2 footed jumping side kick and shoulder roll into side kick on the ground. Phew! I might have missed something it's a bit of a blank in places.
The relief of finishing that particularly gruelling section gradually gave way to the next wave of adrenaline as I remembered what was still to come. Next Hosinsul - Self Defence. Now generally at our club we have practised escape from a single attack. This time, as each one of us stood up, 4 people attacked one after the other. Adrenaline has robbed me of much recollection of what happened!
Left feeling decidedly in at the deep end after all that, there was no respite as freefighting followed. Now in my club (like many WTF Taekwondo clubs I'm sure), we have only practised sport Taekwondo sparring with WTF rules and the limitations that ensue. It quickly became apparent that as we were sparring with Kung Fu students aswell as Taekwondo colleagues, WTF rules did not apply and we could sweep, throw, grab legs, punch to the head etc if we so desired. The deep end seemed to suddenly have got a lot deeper. We each had to spar 4 or 5 different people, one after the other and I don't remember much other than making sure I didn't hit anyone lots younger or frailer too hard and trying to make sure no-one bigger and harder hit me at all! We then had the task of ganging up on those testing for higher grades e.g. 1 versus 4 for 4th Dan.
Only breaking now remained. I had to break a 1 inch board with front, back, side, turning, reverse turning and side kick. Then what I'd been dreading - flying side kick over 2 people curled up. I think I joked to the people holding the board to lower it; saying they should watch their knees cos 'I'm no good at this'. We've only been practising this for a few months and it had always left me with an aching back & hips, feeling my age. It was with what can only be described as pure shock, that I found myself in the air above 2 people, watching my food shoot out and break the board! After that, reverse punch was a doddle.
Finally brick breaking - I had 4 attempts at chopping with a knife hand but didn't succeed, though 3 or 4 others did - well done!
So after possibly the most intense six hours I can remember, our grading was over. Grandmaster Vohra had said on several occasions that at this level what he wanted was 25% Tae, 25% Kwon and 50% Do - that spirit, focus and effort was what really mattered and his grading process certainly demanded that.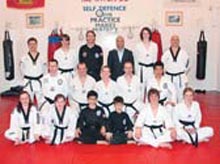 So after the last 3 years of doubt, ill health and general anxiety (from myself) and constant badgering, harassment etc (from my class mates) I finally achieved my 1st Dan. I read a lot of martial arts magazines and I am more than aware of the debate that rages. I know that 30years ago only exceptional students made black belt, but also know that some of those who trained then damaged themselves in ways they regret now they are older, be it bad backs or joints. For better or worse times have changed - I have trained 3 times a week for 7 years rarely missing a class, however, I know I could be fitter and more flexible inspite of my age. Putting on a black belt does not suddenly make me a better practitioner than I was a month ago, but having been put through the adrenaline ride, pushed beyond my comfort zone and succeeding at something I was convinced I couldn't do (breaking wood
with a flying side kick), I do feel that I earned it. 'A black belt means what it means to you' Grandmaster Vohra said, continuing 'it's up to you to be a good black belt'. I resolve to get fitter and become more flexible!
One memory that will stay with me is of a very young Kung Fu student; having failed with his flying side kick twice and sitting down. His Sifu took the board from the lads holding it, held it up, looked him straight in the eye and said 'I believe you can do this'. The lad got up, ran, jumped over 2 people and broke the board! Inspiring!
Congratulations to everybody who passed that day, not forgetting my fellow club mates - Damien Barber (1st Dan), Charlotte Turner (1st Dan) and Ben Mitchell (2nd Dan) - Thanks to our club instructor at Strike Taekwondo, Lisa Winteridge (3rd Dan) without who I wouldn't have kept training, and thanks to Grandmaster Vohra for the seminars and encouragement.