Nesbie Altun
12 times Turkish Kyrougi Champion
talks to TKD-KMA magazine
There can be few more dedicated martial artists than Nesibe Altun. The 36-yearold Taekwondo player, who was 12 times Turkish Kyrougi (fighting)Champion, began training at 10 years old and was graded 1st dan by the age of 12.
After fighting at local, national and international level, in 1995 she turned her attention to poomsae and every year since then has been Turkish Champion. This would be no mean fete in any country, but possibly more so in Turkey, where Taekwondo is part of Turkish culture, coming only second in popularity to football.
Not satisfied with those achievements, Nesibe has now decided to pass on her skills to the next generation of Taekwondo players. So despite working from 8.30 till 5.30 at her regular job, she also teaches Taekwondo every evening and three classes on a Saturday.
She currently teaches over 50 children, aged from 6 upwards, at a time, to whom she aims to be a motivational role model, she also believes that through Taekwondo youngsters are taught valuable life skills. In Turkey the children training also have to have their academic records checked, to assure that they are succeeding in school as well as excelling in their martial arts.
Despite being a 6th dan in Turkey, Nesibe was awarded 5th dan by the Kukkiwon in 2004, due to an agreement made between the Turkish Federation and the Kukkiwon. She was also graded as an 'International Taekwondo Instructor' at the Kukkiwon in 2005 and a year later qualified as an 'International Poomsae referee'. We recently caught up with this dynamic woman to discuss the subject she is most passionate about.
Which aspects of Taekwondo did you most enjoy?
NESBIE ALTUN: Well of course fighting, it was great fun and I found it relaxing as well. I love Poomsae but it needs more concentration and motivation. I no longer fight, as the years tell on you and if I do anything I want to be the best at it. With poomsae I can still compete at top level and I love the adrenalin rush of competition.
What do you think it takes to be successful at martial arts?
NESBIE ALTUN: Firstly, the right trainer someone with both the physical ability and technical knowledge; they must also be able to assess you and know how to get the very best out of you. Secondly hard work. You need discipline and motivation and the desire to achieve the standards that you set for yourself.
How do you measure effectiveness in the martial arts, through winning competitions or through gaining grades?
NESBIE ALTUN: Both I think, obviously you can measure a person's standard by the grade achieved but also as Poomsae is divided into different categories you can compare yourself to people of your own age and rank. However, each person has his or her own strengths and weaknesses and that's what makes Taekwondo such a great sport. When you see people competing you can often judge how good they are, sometimes even before they actually fight you can tell if you see them using good, correct technique. Sometimes you can predict beforehand who will get the medals.
Talking of good techniques, do you have any tips on how to improve and develop your techniques?
NESBIE ALTUN: if I feel that I am making mistakes on a technique or I simply want to make a technique better then I repeat and repeat it; I watch and imitate those who perform the technique well. Having said that, I think you must feel the technique; I must feel the technique to really make it mine. When you have achieved that it will be like an art form and the technique becomes effortless.
What are your ambitions for your association?
NESBIE ALTUN: I want for those in my association to achieve their ambitions and they can all do that, if they are disciplined, work hard and follow the programme. I always remind people that it is important for an athlete to have the support of not only their trainer but, also, their family then, with discipline and endeavour, it all comes together. It is a winning combination and I've seen it work time and time again.
What's your favourite colour?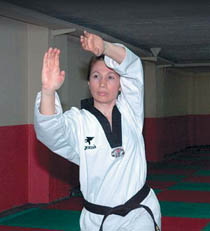 Yellow
What's your favourite food?
Fish and vegetables
What's your favourite film?
Troy
What's your favourite music?
Latin music
What are you currently reading?
Noah's ship / ark
What's your favourite technique?
When I fought, neryochagi;
What's your favourite pattern?
Jitae