Kim Doo Man
A Champion of Two Countries and One Art
Kim Doo Man is no stranger to Taekwondo in Turkey, as you will see from the following article. His association dates back to 2005, when he taught senior Turkish taekwondo practitioners at the Kukkiwon Instructor course of that year. It is through his coaching since then that Turkish students have made it into the top levels of this Olympic combat sport.
Just look at their performance at the 7th WTF World Junior Taekwondo Championships held on May 6 last year in Izmir, Turkey! Or coming more up to date, results of the 3rd WTF World Taekwondo Poomsae Championships held over December 16-18, 2008 in Ankara, Turkey. This was the first time this prestigious event was held outside of South Korea and the choice of Turkey may well have something to do with the subject of this article - Kim Doo Man, who was appointed to serve as an International Advisory Member of the Kukkiwon.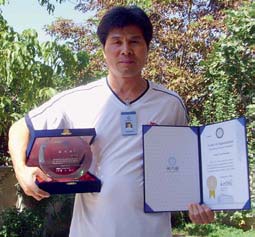 Greatness obviously runs in the family because it was there in Ankara, that Grandmaster Kim Doo Manís own daughter, Rabia Kim, together with team-mates Ozlem Tumay and Elif Aybuke Yilmaz won gold medals in the 14-35 year female team. In the menís individual junior division (14-18 years), Turkeyís Ali Kemal Ustabas won the silver medal while Mustafa Yilmaz shared bronze in the menís individual 1st master division (between 41 and 50 years). Yet more medals for Turkeyís came through the stellar performances of Nesime Altun and Zeynel Celik who won silver medals in the 2nd pair category (over 36 years).
For a relatively small nation, to place fourth in the medal tally of a world event with one gold, six silvers and three bronzes means that Turkey either has some pretty extraordinary athletes and/or a pretty extraordinary coach. We think both - but letís take a look at the coach! Kim Doo Man was born a Korean citizen but that was 58 years ago, heís now a naturalised Turk, living in Izmir, Turkey.
Hereís what he had to say by way of introducing himself:
I was born in South Korea and began training in taekwondo when I was just 6 years old. Iíve been training for 51 years and gained my black belt from Grandmaster Jongu Woo Lee (9th dan), the first ever President of the WTF. Grandmaster Lee is also founder of the Jidokan tradition. In my early days as a fighter I was twice the Korean Champion and many times won silver and bronze medals.
I was awarded my 4th dan during 1975 and shortly afterwards, was accredited as both a licensed teacher and referee. To date I have participated in 15 instructor and 19 referee courses and hold both international instructor and international referee licenses. I also have a degree in physical education from Wooseak university.
During my stint in the army I taught taekwondo to soldiers as part of their training and after I left the army, I taught taekwondo at a number of special schools such as Hoonul, Honson and Hanguk. I also taught the Police Academy in association with Grandmaster Yongyin (9th dan), a co-founder of the Jidokan. As an aside: all Jidokan masters are now living in the USA!
Internationally I taught taekwondo for a year in Thailand. That was back in 1978. Then between 1981- 1983 I taught in Saudi Arabia. Iíve been living in Turkey since 1985 and married my Turkish wife in 1987. We now have a daughter and I changed my nationality in 1995 to become a Turkish citizen. I resumed my competition career in Turkey and fought numerous times in the Turkish Poomsae national team. Iíve been Europe Champion 4 times over, placed 3rd in the 1997 US open in 1997 and won my division in the Hanmadang and Hwarang Festival. On the administrative side, Iíve been Technical Director for the Turkish Poomsae National Team since 2005. During that time, the team has twice been European Champions and twice bronze medallists at the World level!
Now - do you have any questions you would like meto answer?
Yes! Tell our readers why you happened to take up taekwondo rather than one of the other physical activities practised in your country?
KIM DOO MAN: Taekwondo is a very popular sport in Korea and is actually taught as part of the curriculum in schools. In fact, taekwondo is regarded as a way of life in Korea!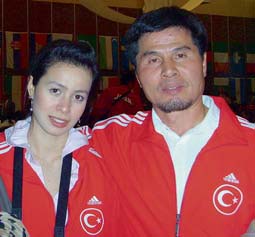 The status of taekwondo in Korea can be seen through the activity of the The Korean Goverment in establishing the Taekwondo Park. This will be finished in 2013 and the names of all Taekwondo Grandmasters and their work will be recorded there. This will function as a resource for all practitioners. My first teacher was the founder of WTF and he inspired and motivated me to train and excel in taekwondo. Two more masters who contributed in a major way to my early development in taekwondo are Kim Ill Seok and Il Young Gun. Il Young Gun currently lives in America.
Apart from the inspiration provided by your teachers, what did YOU do to contribute to your and your teamís successes?
KIM DOO MAN: I attribute any success I may have achieved to a number of things, which include following the right training method, working constantly to develop my techniques, working steadily from grade to grade and always keeping my mind open to new information. I want to stress that success in taekwondo is built on a firm foundation. This foundation provides the basis for development to an advanced stage. Combination techniques, for example, can only be properly executed when you can properly perform their individual elements. Discipline is essential during training and above all of these, a serious and strong commitment must be made to train.
I use the Korean system in my club and for the national team. How much you work at taekwondo and how much you develop by yourself is important. Nowadays I stay in touch with whatís happening in Korea. This is very important and as soon as techniques or rules are modified, I pass those changes on to my team right away! I believe this contributes to the success of the national team. Take last year - every team member save one won a medal in the European Championships!
What do you think are the main physical requirements for success in taekwondo?
KIM DOO MAN: The requirements vary according to whether you aim to succeed in kyorugi or poomsae but everyone will need a lot of power and a lot of flexibility! I believe that if we want to succeed in taekwondo, then we need to play our part in team work and contribute to the team spirit. These are very important for success!
Moving on - how do you measure achievement in taekwondo practice?
KIM DOO MAN: This is a very important subject! Everyone is different and has their own personal range of abilities; abilities that vary between individuals. So overall Iíd say that achievement consists in developing your personal ability as far as it can be taken through your efforts and determination.
What parts of taekwondo do you most enjoy?
KIM DOO MAN: I enjoy teaching the most - and Iíd very much like to more teach more people! We need to increase the number of people training and we must continue to produce serious, honest and knowledgeable taekwondo practitioners.
The philosophy of the Do philosophy is very important for me. It encompasses all life and can be expressed through the 8 principles of my Jidokan philosophy. These require me to look correctly, talk correctly, listen correctly, think correctly, move correctly, give directions correctly, take directions correctly and administer correctly.
Final comment?
KIM DOO MAN: I believe that we have to continue to learn something every day!
Thank you Grandmaster Kim!