September 2008
Jessica R. Mandel
NEVER GIVE UP YOUR DREAMS!
Jessica Mandel's mother wanted her two daughters to have some idea about how to protect themselves. They regularly practised gymnastics but that wasn't enough for Mrs. Mandel, who took them along to meet Sue Katz, a local self defence instructor. Ms. Katz recommended both girls take up taekwondo, which is not as well developed in Israel as it is in other countries. This turned out to be the right choice as far as Jessica's concerned!
Jessica learned the basics from Kytu Dang (Denmark), who was not only a good teacher but a great motivator. Mieke Tapia was another source of inspiration who, Jessica believes, brought out the very best in her. Others she credits for their roles in her success are Mustapha Moustarak from the Netherlands, and Nigel Hudson, both of whom helped her with the ins and outs of judging; Tony Vohra, Jung-heon Kim,and Haya Q. Karadseh. She credits the last mentioned two persons with teaching her the value of patience!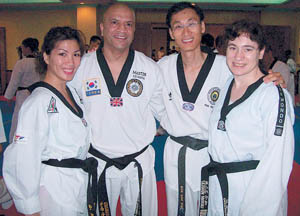 Jessica is currently a 5th dan and qualified through the WTF as a judge. She describes some of the seminars she attends as "amazing", singling out Kim Doo Man - who is one of the founders of WTF Taekwondo - and Nesibe Altun (Turkey), both of whom helped her a great deal in so many ways. Jessica also credits Michel Madar (the head of Israel Taekwondo) and Mr. Gerrit.
Jessica's favourite part of taekwondo is forms, which she believes help her train and control each and every part of her body. She loves the way she can use her natural flexibility to perform those forms in an effortless way. So it's not surprising perhaps, to learn that she regards flexibility as the main physical requirement for success in her art. She says, "There's nothing quite as impressive as a high kick that is focused, accurate, and perfectly timed! I've seen many competitions, and those competitors with flexibility, power and balance invariably place!"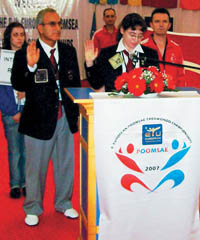 She regards patterns as the very nucleus of taekwondo through which you can learn the rest of the art, including self defence, sparring, analysis, balance, a wide range of techniques, focus, power, discipline, concentration and perseverance. Jessica notes that the wonderful thing about patterns is that you don't need to be in a class to practise them. You can practise them anywhere and and/or everywhere. All it takes is YOU and the motivation to get down to it!
So, is her success down to her natural skills? She doesn't think so! Rather she credits the role of the good teacher who recognises what she needs to do to excel and shows her how to achieve that excellence. She urges students to find a trainer who is fully current, informed and capable; a trainer who comes to believe in you and will see you through to achieving your goals. But part of the success package, she points out, is YOU! She advises students to take the new insights they receive, work on them at home, and make them part of your regular training.
The support of her family has provided the background to her training and a teaching job has allowed her time off to train, compete, or go to a seminar. She's been lucky in all three aspects, and credits them as a winning combination.
Where some measure effectiveness in martial practice through winning competitions or attaining a high grade, Jessica measures it by just being able to be there! But hold on - there's a little more to it than that! Jessica just happens to be a Type One Diabetic. She wears a pump on her belt 24/7 and this delivers insulin to her body according to blood sugar readings taken through a sensor. Even so, she has to evaluate the level of activity just around the corner and judge when to tell the pump to shoot that bit more insulin!
She was always experiencing low blood sugar levels before competitions until she had the sensor and her first experience with one - at the Challenge Cup in Belgium - showed how it was going to be in the future. She was able to perform the creative form with no problem, and that never happened before!
So for Jessica, it's not just a matter of getting out there and performing, it's preparing herself properly through her growing experience of coping with diabetes. So as she now says, "My first priority is dealing with the diabetes. If I succeed in that, then everything else is a bonus!"
She praises the help, support and encouragement from her friends who have helped her through the hard times in the knowledge that this is something she will have to deal withall her life.
One of her major sources of encouragement has been Michel Madar who was instrumental in raising taekwondo in Israel to the level of an Olympic sport. Michel has constantly supported Jessica and she points out that never once has he attempted to prevent her - on the grounds of her diabetes - from doing something she wanted to do. Some might have been concerned about the issues of liability but that consideration has never prevented Michel from supporting Jessica every inch of the way.
Despite her handicap, Jessica believes there is no alternative but to do the best you can with the physical body you have. She stresses the need to be mentally strong, to remain focused and to practise, practise, and practise more. She urges us, "Never give up your dreams!"
Yet another benefit that has come through her practice is a breaking down of cultural barriers. She notes that Israel is not a secure country and there are other cultures that are not at all happy about the fact that Israel even exists! But she goes to competitions with people are not Jewish. She is proud of the fact she has students and friends belonging to the Muslim religion and urges everyone to set aside politics and come together as friends! This attitude has, not surprisingly, made her a lot of friends in countries where Israel is not well thought of. She says, "The world is getting smaller, and by talking to other people, we all help each other!"
Jessica loves all martial art though she confesses that she is not well informed about the mixed martial art scene. She also notes that relatively few women have made it through to high grade, mentioning only three who made it to 8th dan. She'd like to see that change! Maybe you'll be the 4th, Jessica!
Date of Birth: 6 June 1967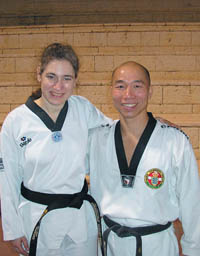 Nationality: Israeli/American
Judging Experience
2008 European Judge for Poomsae in Turkey
2008 Challenge Cup for Poomsae in Belgium
2007 Challenge Cup for Poomsae in Belgium
2005 European Poomsae Course in Stuttgart
Competition Experience:
2008 Challenge Cup Belgium Individual 4th place
2008 Challenge Cup Belgium Creative 1st place
2007 Challenge Cup Belgium Individual 2nd place
2007 Challenge Cup Belgium Creative, 1st place
2006 Jerusalem Open Demonstration 3rd place
2005 Challenge Cup Belgium Individual 2nd place
2005 Challenge Cup Belgium Pair 3rd place
Participation:
2006 World Championships Seoul
2005 European Poomsae Finland
1995 1st European Championships St. Petersburg
Personal Facts
Favourite colour Purple
Favourite food Avocado
Favourite film "To Sir With Love"
Favourite music Classical
Currently reading 'The Saturday Wife'
Favourite technique Ap Chuk Ap Chagi.
Favourite pattern Hansu