May 2008
HOW THE ISLE OF MAN ACHIEVED ITíS WTF RECOGNITION?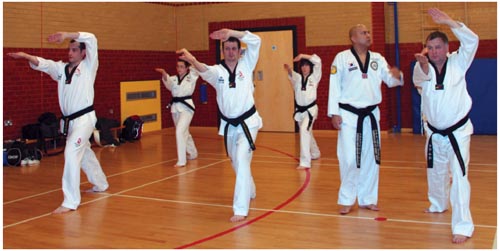 Not many people realise that the Isle of Man is not part of the United Kingdom.
The UK is made up of Great Britain which is, England Scotland and Wales plus Northern Ireland. Whilst the Isle of Man is a Dependency of the British Crown and the Manx people have British nationality the island has never been part of the UK. It has an interesting history of independence having been a Viking Kingdom and is internally self governing with its own legal system and parliament called Tynwald. I was concious of this and felt that taekwondo in the island would be best served by local people running its National Governing Body (NGB). The Isle of Man Taekwondo Association (IOMTKD) is the NGB. It is non profitmaking and is recognised by the Isle of Man Sports Council. IOMTKD is working to develop the practice of WTF taekwondo in the island. The process of WTF recognition started with an introduction to the late Cha Sok Park by Keith Evans at the Madrid World Championships in 2005. Grand Master Park was instrumental in assisting us and his untimely loss last year was a real shock. Following the meeting in Madrid we met with the then Chief Minister for the Isle of Man the Hon D. Gelling and he gave us a letter of support to send to the WTF.
The Isle of Man was voted in as an associate member of the WTF at the AGM in Vietnam in 2006. Whilst the IOM is not an Olympic nation (hence the associate status) we can compete in all WTF competitions upto and including the World Championships. This a a great source of pride and we are working to build a manx team that can represent the island internationally. We would love to reach the same level of success as the manx cycling team, who achieved gold at the Melbourne Commonwealth Games in 2007. There are only 80,000 people on the island and we now have 25 black belts. We have a long way to go but we are very determined.
TKD-KMA: When did you take up martial art?
I first started in 1988 when studying for my degree in manchester. Apart from 4 years off in the mid 1990ís, I have trained ever since. Taekwondo is a major part of my life.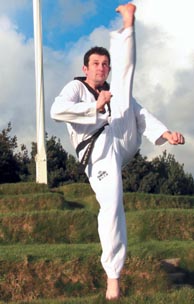 TKD-KMA: The Isle of Man is a relatively small place, whatís it like?
I love it. All my family are Manx and I feel a strong connection with the Island. -It is approximately 225 square miles of green unspoilt land. It has some spectacular coastline and beautiful hills. It is not perhaps for people who want the buzz of a big city but it is perfect for those who want a more laid back lifestyle. The island is in the centre of the British Isles so we have our fair share of rain in the winter but that is why the land is so green. I have travelled extensively and would not want to live anywhere else.
TKD-KMA: What problems do you face developing taekwondo in the Isle of Man?
There are no real problems just challenges. Travel off island is an additional expense we have to face. Some martial arts have had a poor image as being the preserve of slightly odd individuals. The Isle of Man Sports Council have been fantastic. They appreciate what we are trying to do and now understand what Taekwondo is and its potential benefits to society. Our biggest challenge is to attract potential talent away from the many longer established sports. Every town has a number of football rugby cricket and hockey clubs and sports such as athletics and cycling are very popular. Most talented kids have a lot of sport to choose from and we need to attract them to our martial art. The island punches above its weight in sport generally and we want to make Taekwondo one of the best Manx Sports. We have 5 classes running a week but need to get more qualified instructors so we can offer more venues and specialist classes for those specialising in poomse and kyorugi.
TKD-KMA: What challenges does taekwondo face in Britain?
IOMTKD is easy to manage. We know everyone here and have an open door policy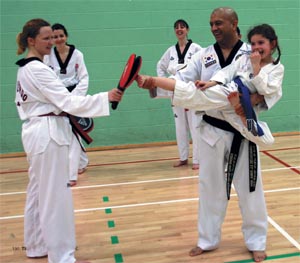 to those from different styles that want to join us and practice Kukkiwon style Taekwondo. It is unfortunate that there is so much negativity with regard to politics and personalities in the UK. It is a shame so few taekwondo practitioners are members of the NGB for WTF Taekwondo. That needs to improve if taekwondo is to grow as a serious sport in the UK.
TKD-KMA: How did you get into teaching taekwondo?
By accident. The first professional instructor on the island Ray Smith left the island and I was a new black belt. I started a small class for myself and a couple of friends who wanted to practice kukkiwon taekwondo and it started from there.
TKD-KMA: Who has helped develop IOMTKD?
We have been very lucky over the years. .any people have provided invaluable expertise and advice including initially Ray Smith and Mike McKenzie and more recently Peter Hankin who is now our Sports Coach, Dong Jin Bae who is our Dan Examiner and Keith Evans who has advised on officals and refereeing. I first met Master Tony Vohra out side Kukkiwon in 2005 and his technical ability and expertise has been inspirational. We have been lucky to have a locally based Korean graduate of the Kukkiwon Instructors course Gun Lee. Gun as been a great help. Locally David Shefford and Mark Leslie have made a great success of our western club in St Johns and Jerry Carter and Brian Quayle run a great class in Douglas.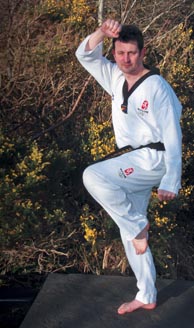 TKD-KMA: Where do you see IOMTKD going?
We need to get more clubs opened and more instructors teaching to increase the pool of talent out of which we can build a Manx team. We want to see the Manx flag flying at international events.
TKD-KMA: Who was your first instructor or inspiration that got you motivated?
Master TW Shin at Manchester Poly Ďs club. I became addicted to Taekwondo after a week of training. It was completely new to me and and I loved all of it (apart from the stiff muscles). Despite getting soundly beaten by a black tag in my first fight as a yellow belt in Kendal in 1989 I absolutely loved taekwondo.
TKD-KMA: What does it take to make a success of martial practice and what do you believe are the main physical requirements of Taekwondo as an art?
A desire to improve. Personally I think that Taekwondo is a complete system of training and you therefore need to work on fitness, speed, strength and stamina. I have neglected my flexibility in recent years and I am now trying to catch up.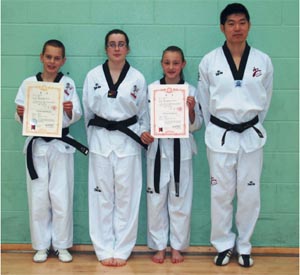 TKD-KMA: How do you believe a student should measure effectiveness in martial practice?
Thatís up to the individual although the grading system provides people with motivational goals, but I do believe that competition, in both Poomse and Kyrougi are an excellent mental and physical test.
TKD-KMA: How can you improve or develop your techniques further and what are your views on change over tradition?
By training more with those that are better than me. I try to have a private lesson with a more senior instructor as often as possible, meeting many very special practitioners some of whom are very young. One of the impressive aspects of taekwondo is its ability to adapt and evolve. Whilst periodic changes to techniques such as stances and kicks annoy some, I believe that a willingness to accept change is healthy and leads to improvements.
TKD-KMA: You have travelled widely. Where have you trained?
I spent a ski season in 2001 in Chamonix in France. I chose Chamonix as it had a great tkd club. 3 months snowboarding and tkd at altitude counterbalanced the apres ski beers quite well! After that I spent a year travelling which started in Japan and finished in Bolivia. I spent three great weeks training in Korea. This was an amazing experience and I was lucky to make some great Korean friends who are incredibly hospitable. The Korean people are rightly proud of their country and make a big effort to look after visitors especially those travelling alone. I got lost on my first trip to Kukkiwon and a guy I asked for directions ended up taking me there on his moped. I brought my dobok backpacking and trained as often as I could. Probably the most memorable experience was finding a club training in a field in Siem Riep in Cambodia. I asked if I could join in and they asked me to teach the class. They had very little and it was a humbling experience. I love the fact that you can go anywhere and always find a taekwondo club and be welcomed as a friend.
TKD-KMA: What ambitions do you have in terms of personal development and the development of your association?
I am currently training for my 4th Dan and hope to attend the international Instructors course at Kukkiwon this year. I want to be a better student and instructor. With regards the IOMTKD, we need to maintain growth and constantly seek to improve our standards.
TKD-KMA: What are your thoughts on the new emphasis of practical martial arts?
Self defence is a core element of Taekwondo. Some schools ignore practical self defence but it should be encouraged.
TKD-KMA: Do you believe that patterns are the heart of TKD?
Likewise poomse are an essential core element of taekwondo. We are working to build a competitive poomse team. My enjoyment of poomse has increased significantly in recent years.