I regularly find myself in the very fortunate position of meeting students, instructors,masters and grandmasters from different parts of the World.
I am also priveliged to interview some of them, gaining insights into their views, training history, and development. The most senior exponents that I have met, have been very humble and talented martial artists that do not have egos . They are very polite not arrogant and agressive but if needed they could walk the talk. Many ask the question which is the best martial art? Martial art is only ever as good as the martial artist and I had the good fortune to meet many great martial artists, of which, Master In Kwon Jang I count as one. For this, one of several interviews, conducted exclusively for TKD-KMA, I had the pleasure of spending time with In kwon Jang. I hope you enjoy what turned out to be a most enjoyable although too brief an encounter.
FACT FILE;
Name: In Kwon Jang
Address: Seoul , Korea
Date of Birth: July.28.1970
Nationality: Korean
Marital status: Happily married for 3 years.
Taekwondo/Martial Arts acheivements and acolades?
Education; Bachelor of Physical Education in Taekwondo Valedictorian,
4.023 GPA (4.3 scale) University Taekwondo Exhibition Tea Kyunghee University,
College of Physical Education and Sports Science
Awards & Honors:
Technical Expert Committee,

World taekwondo Headquarters 2007 Citation,
President of World Taekwondo Federation 2007 Appreciation Award,
Icelandic Taekwondo Federation 2004 Citation,
President of World Taekwondo Headquarters 2004 Citation,
President of World Taekwondo Federation 2003 Appreciation Award,
Harvard University and Brown University Taekwondo 2001 Appreciation Award,
U.C Berkeley Martial Arts Program 1999 Winner (Silver Trophy Winner),
Self Defense Division I999 World Taekwondo Hanmadang Tournament,
Korea Winner(Silver Trophy Winner), Self Defense Division
I997 World Taekwondo Hanmadang Tournament, Korea
Seminars & Demonstrations:
Icelandic Taekwondo Federation,
Iceland Dec 2003/ Oct 2004/ July 2006
Olympic Committee, Costa Rica Feb 2002
Midwest/Northeast U.S. Tour Dec 2000 /Feb 2001
Harvard/Brown University, Cambridge,MA and Providence,
RI Feb 2001 New Orleans Police Department, New Orleans,
LA Aug I999 University of California at Berkeley, Berkeley,
CA June / Aug I999 Shelter Against Violent Environments,
Union City, CA Jan 1999
California Tour Dec I997 - Feb I999
Licenses & Certificates: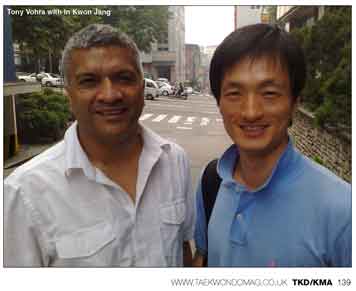 1. 6TH Degree Black Belt in Taekwondo, World Taekwondo Headquarter, Korea.
2. 4TH Degree Black Belt in Hapkido, Korean Hapkido Association, Korea.
3. Taekwondo Coaching License, World Taekwondo Federation, Korea.
4. National Taekwondo Referee License, Korean Taekwondo Association, Korea.
5. Physical Education Instructor License, Ministry of Education, Korea.
6. Social Sports Coaching License, Ministry of Sports and Culture, Korea.
7. Taekwondo Competition Coach License, Ministry of Sports and Culture, Korea.
Teaching Experience:
1. Seoul International Membership Club, Seoul, Korea Nov 2002 - Present.
2. Yonsei University Foreign Student Taekwondo Program, June-July 2007.
3. Soman Elementary School, Gyunggi, Korea Mar 2003 - Mar 2004.
4. Yonsei University, Seoul, Korea Nov I996 - Aug 2001.
5. Yonsei University, Seoul, Korea Summer 2000. Int'l Division & Korean Language Institute's Summer Team
6. Yonsei University, Seoul, Korea Summer I998. Int'l Division & Korean Language Institute's Summer.
7. YWCA, Seoul, Korea Apr I994 - Mar I997.
8. The others: Yongsan international School, Nam San international school. Franciscan School at Seoul, Korea.
Newspaper & Magazine Profiles:
1. World Taekwondo Headquarters' Taekwondo People Jan 1, 2007.
2. GV (local), Reykjavik, Iceland. Sep, 2005
3. The Korea Times/ Hankook Ilbo (local), San Francisco, CA Jan I3, I999
4. New Orleans' Times Picayune (local), New Orleans, LA Aug I5, I999
5. Worl 5. Taekwondo Magazine (Nat'l circulation), Seoul, Korea Jan I, I998
6. Taekwondo Magazine (Nat'l circulation), Seoul, Korea Nov 1, 1997 As there is a tradition in Korea to get youngsters into sport and in this case, TaeKwonDo, I asked master In Kwon Jang what age he started his taekwondo journey ?
Not suprisingly, he said, "My mum took me to taekwondo although I liked to play music and drums but she took me at 7 years of age to make me stronger. I then asked him who inspired and motivated him to take up martial arts as a serious interest, to which and to my surprise he replied, "Bruce Lee". It's notthat I cannot understand why anyone could be inspired by Bruce as he played a large part in seeing me make a career out of studying, teaching martial arts. It' more that with such a wealth of Korean talent on his doorstep, I was just intrigued to discover why real martial arts Masters came second to movie legends. The answer however is simple, as well as the Great Bruce he was also inspired by Jackie Chan and Jet Li - Movies really are universal i guess ! On the subject of which aspect of Taekwondo training he enjoys most he had this to say, "I love Teakwondos kicking techniques, they can never be mastered and so, pose a continued challenge! To be successful at anything you do, you have to have a genuine interest, apply a great deal of concentration, try to keep in the best physical condition and adhere to a regular/strict schedule of training and learning"!
Aside from the usual physical requirements I asked Mr Jang what he felt was the secret of power and good flexibility? He simply replied, "muscle! You have to have an intrinsic understanding of repatitive focus and speed as well as mass". We all judge our success in different ways so I asked how he measured the success of his career and technical ability, he said," Learn correctly, understand and master the basic theory. Exercise repeatedly as repetition plays a fundamental role in mastering all techniques. If I drew the same picture 100,000 times I would become very good and very fast which is what is required to be as good as possible at what you do"! On the subject of history I asked Mr Jang if he thought that the founders of martial art were special people? He replied, " Yes, they are the very roots of Taekwondo history. They are the witness' and thankfully many of them are still alive so we are very fortunate to be able to be still learn from many of the Worlds seniors. We live in very interesting times"!
Having achieved so much at such a relatively young age I asked if he has any yet unrealised ambitions. "I want to be as good as I can, a true Master through endless practice and mental training. I wish to be remembered as an ambassador for Taekwondo although I have a great deal to do before this dream can be realised". Finally I asked Mr Jang for his thoughts on patterns and if he believed that they lay at the heart of Taekwondo? "Yes, patterns are educational and form the text book for Taekwondo. They help students as they have lots of rules and shape. They restrict students from cheating themselves at first but they eventually set students free to understand the deeper elements. The unification of muscle power in harmony with the theories of attack and defence. In short they are the map by which a journey can be achieved"!
Fact Box
a) Favourite colour? Warm colors (yellow)
b) Favourite food? Vegetables
c) Favourite film? Lord of the Rings
d) Favourite music? Classical music. Rock, Pop, Instrumental music
e) What are you currently reading? Hobby books
f) Favourite technique? Tornado kick.
g) What's your favourite pattern? Guem gang. Taeguek Jang