Back to basics
Stances
Over the past 2 months we have covered; attention, ready, bowing, blocking, mid, high and low as well as punching techniques. We now need to be executing these techniques whilst standing as well as when moving in different directions. In this issue I would like to cover walking stance, long stance and back stance, looking at delivery of technique.
Each Taekwondo practitioner's stances should be tailored to their own unique shape and form. It is important when practicing stances that the trunk (body) remains upright with the back straight and that positioning feels comfortable and natural so that the joints do not feel that their movement is restricted. Also considering motion when changing positions, all movement should be direct. For example, when moving forward in walking stance, the stepping motion should feel like a natural step forward. For this reason it is important to move the feet straight from one position to the next.

Stances are used for motion in all directions, forwards and backwards, creating a stable position from which to attack and defend. Some stances require weight to be distributed evenly and some with a higher proportion of the weight on a single limb. As stances change the stability and positioning of the centre of gravity also changes. Some require the trunk to be raised, creating a more elevated centre of gravity, while others require the trunk to be closer to the ground, resulting in the need for the position of the centre of gravity to be lower. A point to remember when practicing movement in a particular stance is that the centre of gravity should remain constant. To help picture this, imagine that you are practicing in a space where the head just touches the ceiling i.e. you are unable to raise the level of the head or body. Also it is crucial when moving that you move lightly and swiftly; emphasis is on directional movement not impact, transferring force into the floor.
People practice martial arts for fitness and to give themselves knowledge of self defence. Therefore, the motions outlined in this article must be transferable to sparring and real life combat situations. Repetition of stances will achieve precision and accuracy in motion. Practice can make the stances and techniques your own, leading to identical positioning in each stance when moving left or right.
NOTES
Closed stance - Moa seogi. Feet together, heels and toes touching
Parallel stance - Naranhi seogi. Feet pointing forward, parallel. One foot distance apart.
Pyonhi seogi. Feet one foot distance apart, combined angle of feet up to 60o
Right/Left hand stance - Oreun/Wen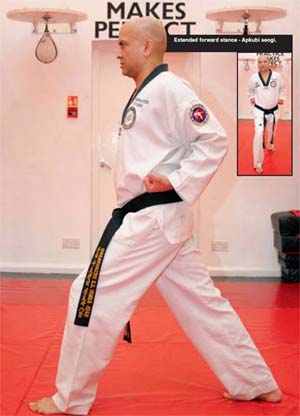 seogi. One foot turned to side, one foot pointing forward. Feet one foot distance apart.
Riding stance - Juchum seogi. Two feet distance apart, feet parallel. When sitting legs are bent so knees grip inwards as if resisting pressure on shoulders.
Forward stance (Walking stance) -Ap seogi. Feet on a line, front foot pointing forward back foot aloud to turn slightly to an angle within 30o to allow for natural walking posture. Normal step will be about one foot distance in length.
Extended forward stance - Apkubi seogi. Feet together, right foot pivots on heel to 90o then rotate on the ball of the foot up to 30 o from parallel. Length of stance is approximately one and a half steps. Front knee should be bent. To check positioning front knee is forward. Line of vision should allow sight of tip of big toe only.
Back stance - Dwikkubi seogi. Feet together, one foot turns to 90o (sometimes termed "L-stance" as feet are in shape of an L). Feet separated by one step distance. Both knees bent, but open. One knee points forward, one to the side. Weight distribution approximately 70% back foot, 30% front foot.
Master Tony Vohra is always pleased to advise individual students, instructors and clubs and can arrange demonstrations, courses & seminars to suit any individual or groups both at home and abroad. For further details please contact:
President Grandmaster S. S. Vohra (8th Dan),
International School of Martial Arts
UK HQ, Nottingham School of Tae Kwon Do,
Ilkeston Rd., Nottingham NG7 3FX, England.
Tel: 00 44 (0)1159780439;
Fax: 00 44 (0)115 9785567
Emails: info@martialartsvohra.com