Packing a Punch
Simcocks Advocates has been showing it can pack a punch.
Staff at the Douglas-based law firm took part in a self defence session led by Tony Vohra, the Official International Taekwondo referee for the Isle of Man.
Tony, who is an 8th Dan Grandmaster in Taekwondo and also teaches kung fu and kickboxing, gave the group an introduction to the principles of self defence. Working with punch pads he put them through their paces giving instruction on gripping, defensive and attacking manoeuvres.
Tony said: "Practical self defence principles are a necessary life skill everyone should learn regardless of their age or sporting ability. I was very impressed with the efforts of all Simcocks lawyers and staff. They were all very focused and fun to work with."
Chief executive of Simcocks Advocates, Phil Games said: "We are delighted we could accommodate the training session at our office. Our staff showed a great deal of enthusiasm in the course and thought it was very worthwhile. Taekwondo is a dynamic form of exercise and a health body leads to a healthy mind, which has to be a positive thing for any workplace."
The training session at Simcocks coincided with Tony's visit to the Island in his capacity as adviser and trainer to the Isle of Man Taekwondo Association, which is a non profit making body that provides tuition to children and adults. For more information see www.iomtkd.org
For further details contact kyardley-scott@simcocks.com or call her on 690300.
Tony Vohra puts Advocate Nicola Kane through her paces.
Simcocks Advocates is based at Ridgeway House, Ridgeway Street, Douglas, Isle of Man IM99 1PY. Telephone 01624 690300 or www.simcocks.com
Simcocks Advocates also has an office at Central Court, 25 Southampton Buildings, London WC2A 1AL. Telephone 020 3043 4243.
Simcocks provide an extensive range of legal services broadly grouped into the areas of commercial, dispute resolution and private client. The firm represents both large, established, institutions and small businesses.
Strike Taekwondo Club welcomed Grandmaster Vohra 8th Dan Black Belt to Oakbank Recreation Centre, Keighley on Sunday 30th March.
Grandmaster Vohra who is the highest ranked Kukkiwon Taekwondo Instructor in the U.K. was in Keighley to conduct a grading, demonstrate techniques and teach a training seminar. The students were graded on their kicking and hand techniques, self-defence, sparring, terminology, patterns/forms and also, for one student breaking wood. Rhiannon Taylor successfully broke the wood with a standing front kick and jumping front kick.
All students were successful in passing their grading and were presented with their certificates and new belts by Grandmaster Vohra on the day. Those who successfully passed their grading were Nathan Ward, Leah Moorby, Natalie McSharry, Sam Plummer, Dominic Williamson, Adam Whitaker, Connor Range, Robyn O'Rorke and Rhiannon Taylor.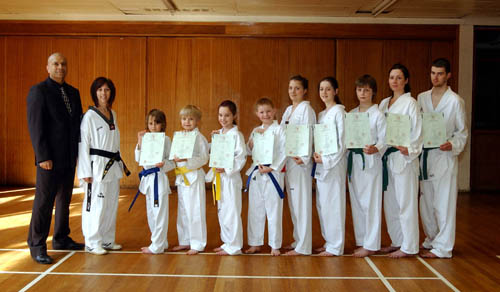 More students then arrived to take part in the training seminar which followed. Grandmaster Vohra demonstrated and taught a range of techniques which included basics and jumping kicks. Chief instructor & club founder Lisa Winteridge said 'It was a great experience for students to have someone of Master Vohra's status come up and pass on his expertise in the martial arts. Everyone thoroughly enjoyed the day and the learning experience.'

Taekwondo is an exciting and dynamic martial art which is suitable for all ages and abilities. Strike Taekwondo Club welcomes anyone interested in learning a martial art including complete beginners. Children and adult classes are available in Oakworth and Wilsden. You can contact Lisa on 07919 898651 or visit the website www.striketaekwondo.co.uk for further information.